1952-2021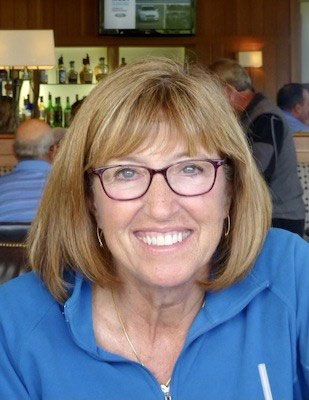 Shelburne – Mary Ann Athanas, 69, of Shelburne, passed away peacefully at home on June 12, 2021, following an 18-month battle with cancer. She will be so missed by so many.
Born on February 1, 1952, in Lynn, MA to Lewis and Ruth Athanas, Mary Ann grew up in Swampscott, MA. After graduating from Swampscott High School in 1969, she attended the University of New Hampshire, where she graduated with a Bachelor of Science degree in 1973.
Mary Ann spent most of her adult life in and around Burlington, where she married her husband of 32 years, Bill Zabiloski. Together, with an ever-present household of dachshunds and cats, Mary Ann and Zab built a wonderful life together. That life included hours on the golf course, boating in their classic Chris Craft around Lake Champlain, great times with friends, cribbage at the club and some pretty terrific vacations, mostly involving beach, golf or both.
Mary Ann also leaves behind a large extended family in the Boston area, including brothers Lewis and Peter, nephews Jason and Andrew, a great-nephew, and many, many cousins and their families. Her strong connection to that family made for lots of visits, parties, celebrations and events in Swampscott, Danvers, Marblehead, Salem, as well as the city of Boston and beyond. Family meant a lot to Mary Ann.
Those are the facts, but those are just the basics. Now let's talk about Mary Ann – golfer, photographer, person with a zest for life, laughter and joy. A great friend, shopper, wife, camp counselor, Mary Ann could talk to absolutely anyone, make them feel totally comfortable, grill them about anything and everything. With her great smile and ready laugh, she really was the sum of so many parts.
Her career reflected that skill of being able to successfully market and sell whatever the product happened to be, whether for a bank, video business, cell phone company, the Burlington Free Press or the Chamber of Commerce. The final 10 years of her professional life was as an account rep for Procter & Gamble. After retiring, she volunteered at several schools in the Burlington area, as well as at a hospice agency.
Golf was Mary Ann's adult passion and pursuit. Loving the game – and with a healthy competitive drive – she was a member of the Burlington Country Club for 35 years and on the Board of Directors of the Vermont State Women's Golf Association. She played in numerous amateur tournaments and State Days. In 1984, Mary Ann and Zab were the Vermont Amateur husband-wife low gross champions. Golf was her game.
Mary Ann had a lifelong passion for photography. Anyone and everyone who knew Mary Ann was, no doubt, a subject for her camera lens, skilled editing, eye for perfection, and then inclusion in one of the countless (and beautiful) books, calendars, notecards and other remembrances she produced.
Buff Ledge Camp in Colchester, VT, was another special part of Mary Ann's life. During the 16 years she spent there, 1964-1980, Mary Ann perfected the typical camp skills, things like horseback riding, swimming, archery, golf and tennis. More importantly, however, she gained lifelong friendships and garnered the accolades and respect of so many campers, counselors and staff who remained in touch. She captured the spirit and love that slice of heaven on Lake Champlain cultivated.
Through Mary Ann's lengthy, often complicated, health journey, special thanks and heartfelt appreciation go to her long-time primary care physician, Peter Gunther, MD. Thanks, also, to the University of Vermont Medical Center Miller 5 Hematology and Oncology team of nurses, staff and caregivers, as well as the wonderful UVM Home Health and Hospice team. Their care, respect and compassion meant so much.
There will be no service or memorial for Mary Ann. In lieu of flowers, donations may be made to the Humane Society of Chittenden County, 142 Kindness Court, South Burlington, VT 05403. Email: bestfriends@hsccvt.org. Donate Today! (hsccvt.org).
Arrangements are in care of Corbin and Palmer Funeral Home, 9 Pleasant Street, Essex Junction, VT.
Published in The Burlington Free Press from Jun. 15 to Jun. 20, 2021.