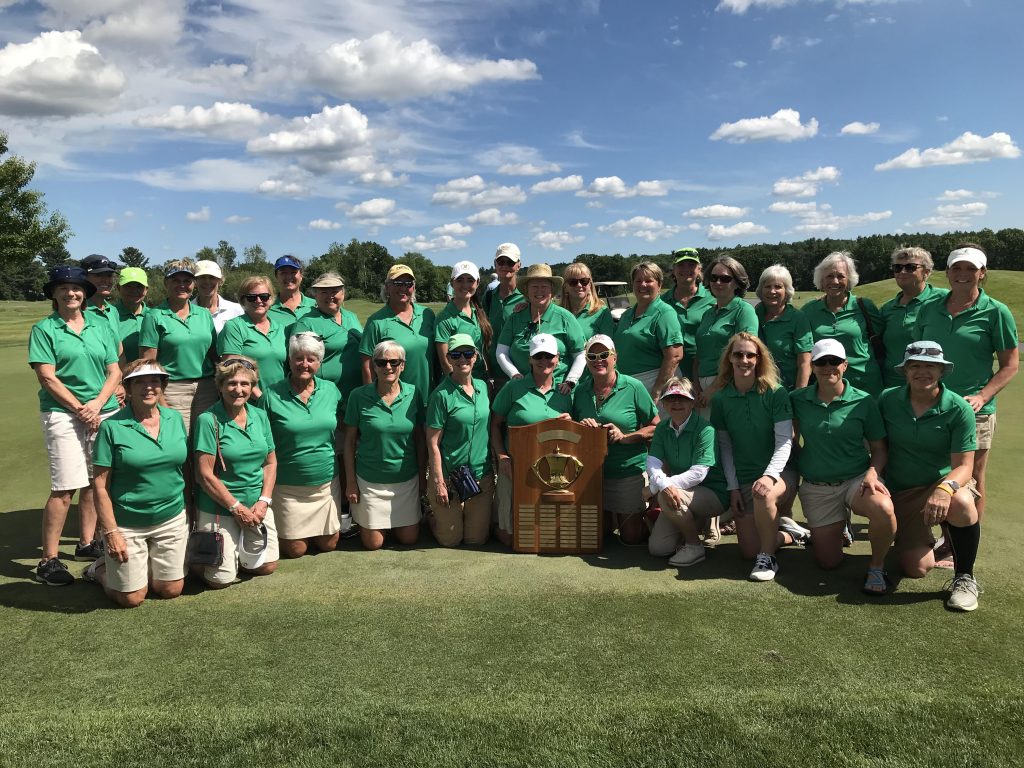 The Tri-State Championship is an annual 2-day match play tournament held in June between Vermont, New Hampshire, and Maine.
2023 Tri-State Championshp
Tuesday-Wednesday, June 13-14, 2022
Martindale Country Club – Auburn, ME
Register online at Golf Genius – Select "Add to Pending List" to register.  Golf Genius will take your CC info but only test charge it.  You will not be charged until you have been accepted to the team.
Registration closes: May 23 at 5:00 p.m.
Refund Deadline: No refunds after May 26
Eligibility: Maximum Handicap Index of 30 as of May 23, 2023
Cost: $75 per player (includes golf plus cart both days and the banquet dinner). The VSWGA is paying $75 toward each player's total fee of $150.
Banquet: Tuesday, June 13 (Mandatory)
Practice Round: Monday, June 12. Fee for practice round is $50 and includes cart.
No caddies are allowed on tournament days.

The clothing combination for the Vermont Team is green shirt and black bottom on both days.

Everyone is encouraged to apply for a place on our Vermont Tri-State team. The Vermont Team will be made up of 30 players in three handicap divisions plus 2 alternate players from the B division. Match players will play to 80% of their handicap with a limit of no more than one stroke per nine. First day format will be modified alternate shot match play. Second day format will be three ball individual match play among the states. The 2 alternate team members will play a stroke play competition with the alternates from the other states unless needed to replace an injured or sick teammate. The substitution of an alternate player for a match player can happen at any time during play and for any division.

The following are taken into consideration during team selection: Handicap indexes with a focus on the 2023 Vermont postings. For those with previous Tri-State experience, performance statistics for the past 3 years will be used. For players who are new to Tri-States, the performance in relation to the players' handicap for the past 3 VSWGA majors played will be used. Past alternates and those players who have traveled to ME and NH for Tri-State will be given consideration when breaking ties while ranking applicants.
For the purpose of the tournament, whatever your handicap is on June 1st, you will play to 80% of that handicap. Keep in mind, your division placement was based on your handicap on May 23rd. Your handicap could change in those seven days, and this could influence the strokes given or received during competition.
Online payment/application is available. Each applicant will be notified as to whether they have been selected for the team. Further information (time for practice rounds, meetings, etc.) will be sent to all selected team members.
The division handicap ranges and number of players are:
| | | |
| --- | --- | --- |
| A | 0.0 – 14.9 | 10 players |
| B | 15.0 – 21.9 | 12 players |
| C | 22.0 – 30.0 | 8 players |
Plus 2 Alternates
Everyone with a handicap at or below 30 is encouraged to apply for a place on our Vermont Tri-State team!
Send questions to any of the Tri-State Committee Members: Trish Wade, Jen Farrington or Mary Jane Shomo (See email addresses in the VSWGA handbook.)
---
Vermont Team Victorious in 2022 Tri-State Championship
Tuesday-Wednesday, June 14-15, 2022, Campbell Scottish Highlands, Salem NH
In 2022 our Vermont team won for the second straight year. The final score was Vermont 148, Maine 137 1/2; New Hampshire 121 1/2. Vermont has a strong record in the Tri-State Championship, having had a successful run of 8 consecutive wins between 2010 and 2017, followed by two wins by New Hampshire in 2018 and 2019. The 2020 Tri-State Championship was cancelled due to Covid-19. In 2021, playing at Rutland Country Club, Vermont again was victorious, bringing home the trophy.
2022 Tri-State Team Selected
Denise Barnard, Ashley Bond, Jazz Bruce, Patty Baroudi, Dana Cassidy, Rhonda Colvard, Nancy DeVaux, Bonnie Heald, Josie Herrera, Edith Hiller, Cheryl Hoar, Christina Johnson, Kathy Kemp, Sarah Lee, Jayne Magnant, Dede Mahler, Kristen Mahoney, Donna Mazut, Fran McCune, Patty McGrath, Mary Beth Menduni, Ann O'Day, Reggie Parker, Mia Politano, Pat Sanborn, Jen Shaw, Mary Jane Shomo, Jen Steck, Els Walker, and Trish Wade.
Alternates: Amy Butcher and Jen Farrington.
Read about the 2021 event.
Read some history of the Tri-State Championship
Tri-State Championship