September 14-15, 2024
Haystack Golf Course, Wilmington, VT

Eligibility, Handicap Limits, Caddie, Carts, and Pairing Information

Age Requirement and Field Size: All entrants must be at least 25 years old at the tournament start. Field is limited to 100 applicants. To be eligible, a player's USGA handicap index must be 36.0 or less. Once registration closes, if the field size is exceeded, preference will be given in order of lowest handicap index, to the 30-54 age group. As space allows, the 20-25 and 55 and over age groups will be accepted in order of lowest handicap index.
---
2023 Mid-Amateur Championship
NESHOBE GOLF CLUB
Saturday & Sunday, September 23 & 24, 2023
Sunday dawned a bit overcast and although the action started at 8:00 a.m., it was a bit too quiet on the first tee at Neshobe Golf Club. But as the day began to warm, and the field started to spread out on the course, the sounds of cheering, whooping and hollering started to fill the air. And as the final groups started heading for the home stretch, the gallery was forming around the 18th green – and they were in for quite a show!
The final group of the day held a bit of a home-course advantage, with two of the ladies of Neshobe present. And they did not disappoint! Lin Culver, who shot 75 in Round 1, followed it up with a Round 2, 79 (154). Kristin Mahoney, who shot 77 in Round 1, held steady and put up a Round 2, 77 (154) to take it to a sudden death playoff. And the battle was on. It took 4 holes, 3 of which were played on #18 to finally break the tie with Kristin Mahoney shooting a birdie to win her first VSWGA Major Championship! Congratulations to Kristin for her perseverance and to Lin Culver for a great battle.
Third place, by only one stroke was Tiffany Maurycy of Killington Golf Course, shooting a 36-hole score of 155. Fourth went to Ann O'Day of Williston Golf Club with a 158 and Fifth place to Jeanne Morrissey of Williston with a 160. Full Field Results are available in attachment or on Golf Genius.

Gross Winners, left to right: Lin Culver, Ann Oday, Jazz Bruce, Gretchen White, Karen Bisbee, Kristin Mahoney, Nancy Devaux, Tiffany Maurycy, Jeanne Morrissey, Kanika Gandhi
Our Net Trophy was won by Eve Norris of Kwiniaska Golf Club, who shot -5 Net over 36 holes.

Net Winners, left to right: Cheri Campbell, Debbie Savoie, Wendy Drolette, Delina Gilroy, Michelle Devino, Kathy Kemp, Kim Fadden, Trish Wade, Denise Barnard
The ladies of Williston didn't let go of the Margaret Dick Team Cup, shooting a team score of 461 to take it home with them once again! Kwiniaska had a strong showing as a team and captured second place shooting a team score of 490.

Team Williston, left to right: Nancy Devaux, Annie Goff, Chrissy Hultgren, Karen Bisbee, Ann Oday, Gretchen White, Denise Barnard, Barb Masterson, Wendy Drolette, Delina Gilroy, Lois Dolan, Barb Shiffler, Jeanne Morrissey, Janet Hayden
To make the day even more exciting, (and to get more whoops and hollars on the course) Kimberly Fadden of Cedar Knoll Country Club made a Hole-in-One on hole 13!! Congratulations to Kim!
2023_VSWGA_Mid-Amateur_Final_Leaderboard.pdf
2022 Mid-Amateur Championship
Tiffany Maurycy Wins 6th VSWGA Mid-Amateur Title at Champlain Country Club
Champlain Country Club
September 17 & 18, 2022
The action was lively at the 2022 Mid-Amateur Championship at Champlain with a mostly beautiful day and only a little bit of liquid sunshine. As the rain threatened, the competition kicked into high gear. In the end, consistency and solid putting won the day with Tiffany Maurycy of Killington Golf Course winning her 6th VSWGA Mid-Amateur Title with a 36-hole total score of 155 (78-77). Holly Reynolds of Copley Country Club kept it close, finishing three shots off the lead with a 158 (78-80). Third place was captured by Carson Laderoute Richards of Burlington Country Club with a 159 (79-80). Tied for fourth, and shooting identical 161s (78-83) were Reggie Parker of Ekwanok Country Club and Jeanne Morrissey of Williston Golf Club. In solo sixth place was Lindsay Cone of Rutland Country Club, shooting a 162 (81-81). (Full-field results.)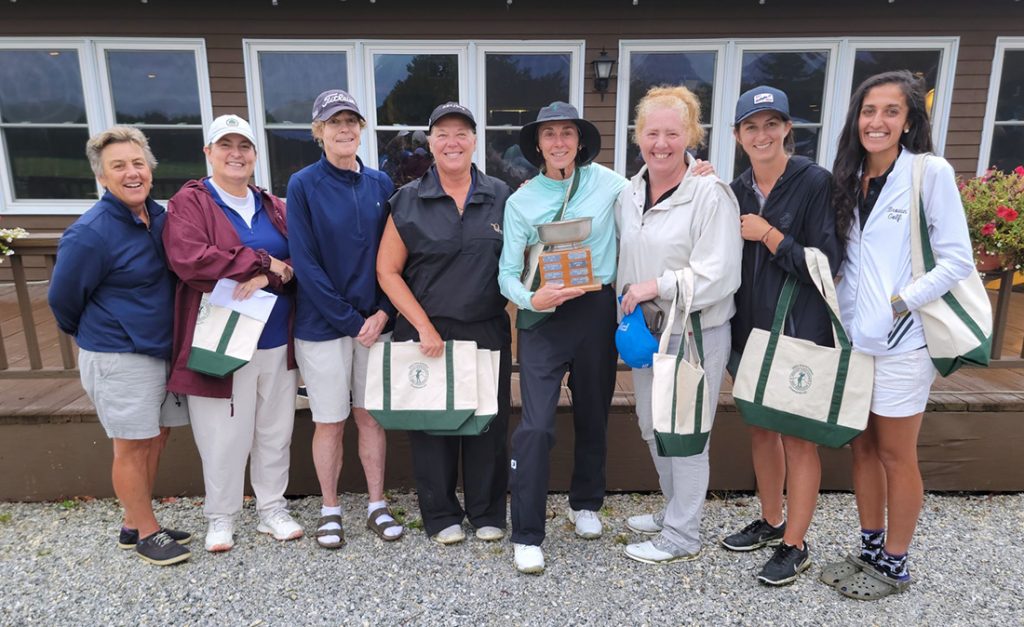 The Net Division winner was Champlain's own Karen Slowinski shooting a 36-hole net score of -3. Only one stroke behind was Donna Mazut of Lakeside Golf Club with -2, and in third place net was Jan Gill of Enosburg Falls Country Club with -1.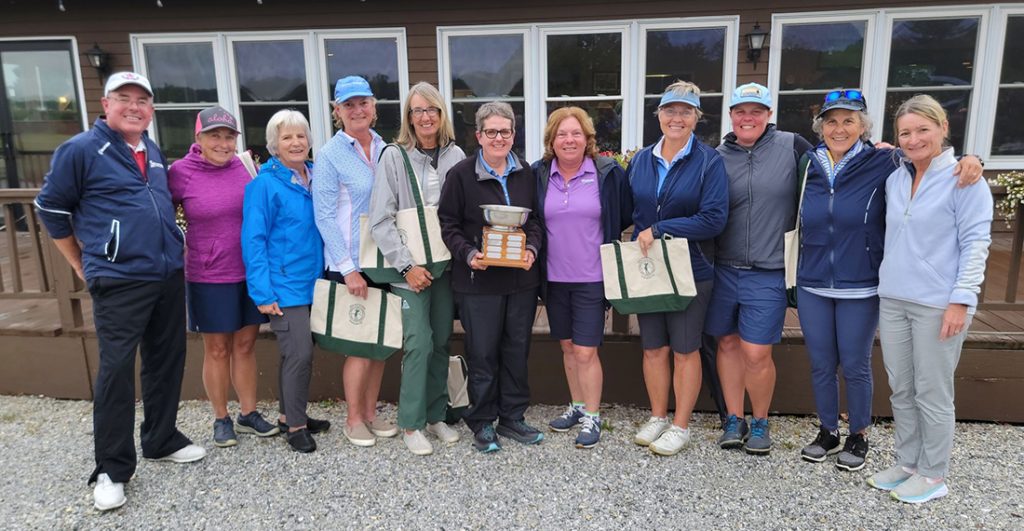 In the Margaret Dick Cup Team Competition, the Williston Ladies took a commanding lead and took the cup home, shooting a team score of 472. In second place was the team from Vermont National Country Club, with a score of 495 and rounding out the top three was Dorset Field Club with a 501.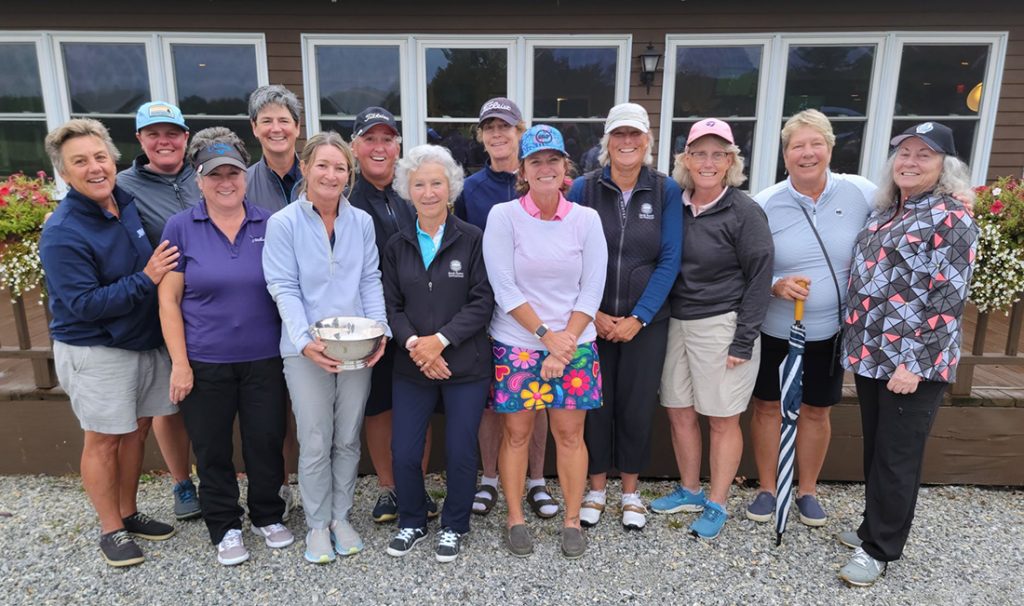 Results:
2022vswgamidamateurchampionship.golfgenius.com
2022_VSWGA_Mid-Amateur_Final_Leaderboard.pdf
2022 Mid-Amateur Awards Sheet
A special thanks to Champlain Country Club for hosting the VSWGA!
---
Reggie Parker of Ekwanok Country Club Victor at 2021 Mid-Amateur Championship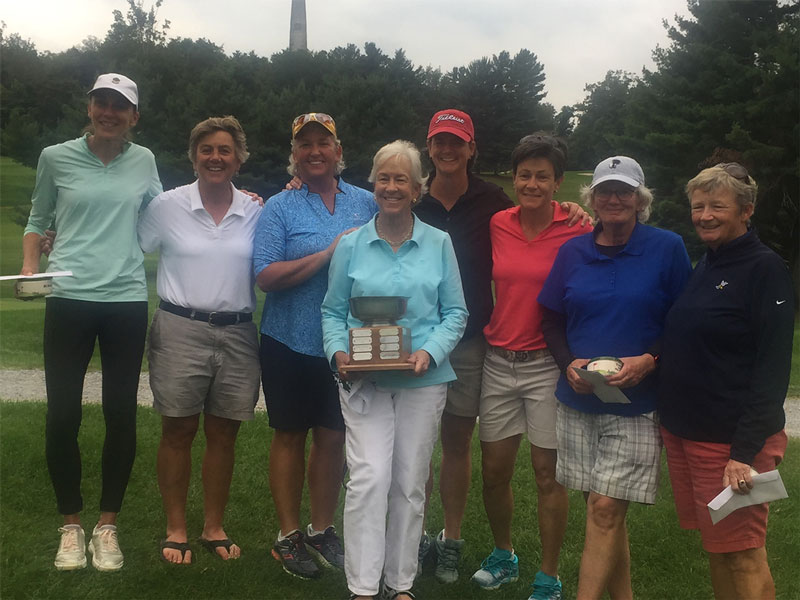 There was an exciting finish to the 2021 Mid-Am. Reggie Parker of Ekwanok Country Club battled from four strokes down to tie Tiffany Maurycy of Killington Golf Course in regulation play, each shooting a 36 hole total of 152. In a one-hole, sudden-death play-off, Parker sunk her birdie putt on #18 to win the Championship. This was her third Mid-Am title, winning her first in 2006 and second in 2008.
In third place, showing consistently strong play was Karen Bisbee of Williston Golf Club shooting 78-79 for a total of 157. Elizabeth Walker of Dorset Field Club fought through round 2 to post the low score of the day (76) and take 4th place. Fifth place was taken by Jeanne Morrissey of Williston Golf Club with a 165. In sixth place was Patty Haas of Killington Golf Course with a 166. And in 7th was Gretchen White of Williston Golf Club with 168.
The Low-Net Competition was also a close one, with Susan Rand of Ralph Myhre Golf Course playing a stellar second round and winning with a 2-day net score of +1 (143). Just one stroke behind was Nicole Laberge, also of Ralph Myhre Golf Course, with a +2 net score of 144. Third net was won by Denise Barnard of Williston Golf Club with +6 net (148), Fourth net was Judith Wine of Stowe Golf Club with +7 (149), Fifth net was Fran McCune of Country Club of Vermont with a +8 (150), Sixth net was Amy Butcher of Stowe Golf Club, also with a +8 (150), And seventh net was a three way tie between Judy Manley of Brattleboro Country Club, Dee Macey of Lakeside Golf Club, and Nancy Morris of Haystack Golf Course, all shooting +9 (151).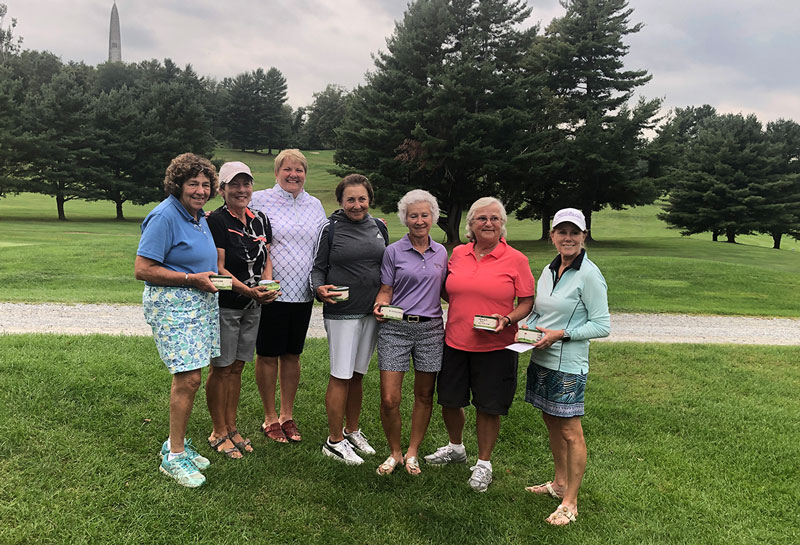 In the Margaret Dick Cup Team Competition, the ladies of Williston Golf Club won the cup with a two-day team score of 470. Second place was taken by the Ralph Myhre Golf Course team with a score of 516. And in third place was the Haystack Golf Course Team with 519.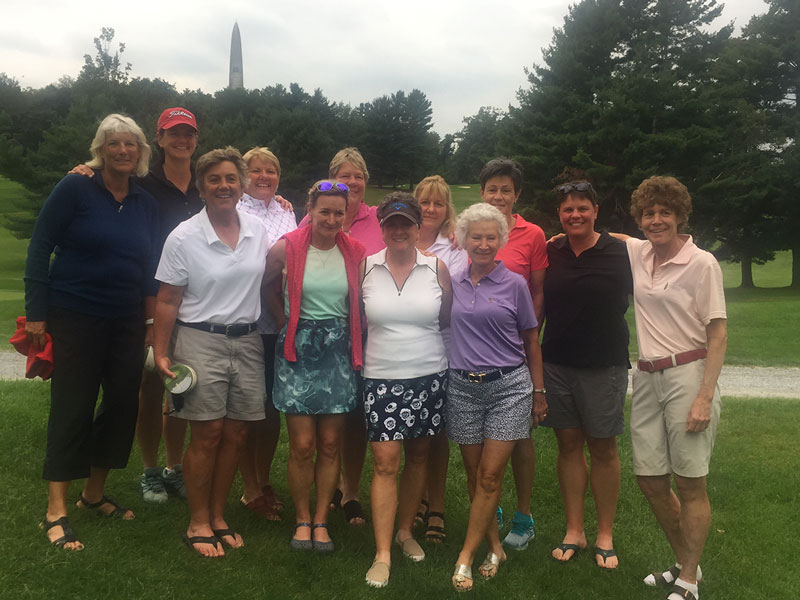 Final Results: vswga-2021vswgamid-amateurchampionship.golfgenius.com
Leaderboard: Gross/Net/Margaret Dick Cup/Skins Results: Adobe PDF
Thanks again to all participants. We look forward to seeing you at the 2022 Major Championships!
Jen Steck
Major Championships Chair
________________________________________________________________
2020 VSWGA Vermont Mid-Amateur Championship Results
Ralph Myhre Golf Course, Middlebury
Saturday-Sunday, August 29-30, 2020
---
Rebecca Montgelas Triumphs in Mid-Amateur Championship
The sun finally made an appearance at the finish of a windy day of Mid-Amateur Competition. Rebecca Montgelas (161) of Ekwanok Country Club held on to her first round lead, gaining an additional stroke in round two to win the 2020 Mid-Amateur title by three stokes over Carson Laderoute (164) of Burlington Country Club. Heather Niquette of Vermont National Country Club battled for third with Holly Reynolds of Copley Country Club, and they ended in a tie at 166, only five strokes off the lead.
The Mid-Am Net Winner was Dana Cassidy, with a 147, beating second place winner, Trisha Mahar of Mt. Anthony Country Club, by one stroke. The Margaret Dick Team Cup was a battle between Burlington Country Club and Vermont National Country Club. It went all the way to the last hole, with Burlington winning with 489 and VNCC two strokes behind at 491.
Results
Final Results on Golf Genius
2020_VSWGA_Margaret_Dick_Team_Cup_Final_Results.pdf
2020_VSWGA_Mid-Amateur_Final_Championship_Leaderboard.pdf