2022 Ruth Raymond Jones Memorial Senior Championship

Mt. Anthony Country Club — Bennington, VT
Monday – Tuesday, July 11-12, 2022

Postmark Deadline: Print and mail application by Saturday, July 2
On-Line Registration Deadline: 3 p.m. Monday, July 4
NO REFUNDS after 3 p.m. Monday, July 4

Entry Fee: $125 includes entry, practice round, and luncheon. Carts are not included in entry fee.

Field Size: Limited to 100 applicants with the lowest USGA indices up to 36.0. If the field size is exceeded, preference will be given to the 55 and older age group.

Eligibility, Handicap Limits, Caddie, Carts, and Pairing Information

Age Requirement: All entrants must be at least 50 years old at the tournament start.
If a player wins the championship trophy, they are not eligible to win the Super Senior or Legend trophy. A player may place in the top ten gross or net and win any of the divisions. The three divisions are:
Senior: 50-64
Super Senior: 65-69
Legend: 70 and over
Format: Stroke play.
Awards:  There will be an awards ceremony immediately following play on Tuesday. There are trophies for the Champion, Runner-Up, Legend and Super Senior. The number and amount of Prizes and Universal Certificates will be awarded based on the number of players in the tournament. Round 1 includes a putting award for the lowest number of putts in the round. All certificates expire on September 30th of the following year. There will be a Skins game offered that will be run through the Pro Shop with pay out in Mt Anthony Pro Shop Credit, cost is $10 per day and includes gross and net skins.
Lodging:  Each offers a different discount so check with them directly instead of booking through discount sites. Mention VSWGA SENIOR Amateur Championship for best rates.
• Four Chimneys Inn; 21 West Road, Bennington VT 05201 – 802-447-3500
• Paradise Inn, 141 Main Street, Bennington VT  – 802-442-835
• Knotty Pine Motel; 130 Northside Drive, Bennington VT 05201; 802-442-5487  Rate $135 + tax based on double occupancy.
• Hampton Inn; 51 Hannaford Square, Bennington VT 05201; 802-440-9862; 10% discount
Registration/Check-In: Registration/Check-in at all tournaments will be in the morning until 1 hour before the last tee time on the first day. Registration information will be emailed to registered players.
Tee Times: Tee times generally range between 8am and 11:30 am and will be e-mailed to participants and are available through the golf genius portal.
Practice Rounds: A Practice Round tee time must be reserved in advance. Saturday and Sunday tee times are limited. Available dates and times for practice rounds are at the discretion of Mt Anthony Country Club. Cart fees are required for practice rounds. If you are interested in bringing a friend who is not an entrant in the Seniors to play the practice round with you, Mt Anthony offers a Twilight rate that is available after 4 pm on Saturday, Sundays and Tuesdays for $35 (usually $60). There is no discount on cart fees.
Caddies: No golf professional is allowed to caddie for any competitor.
Distance Measuring Devices: Distance measuring devices may be used during the competitions, as long as players do not access features that indicate elevation or wind speed.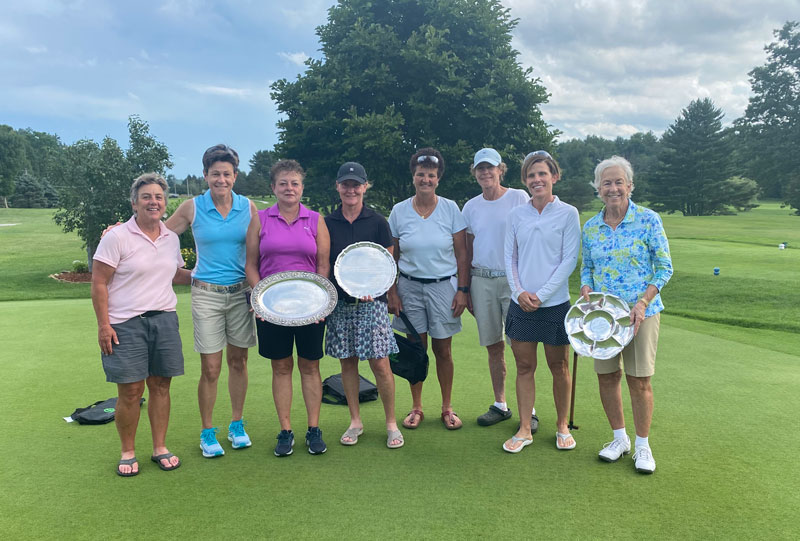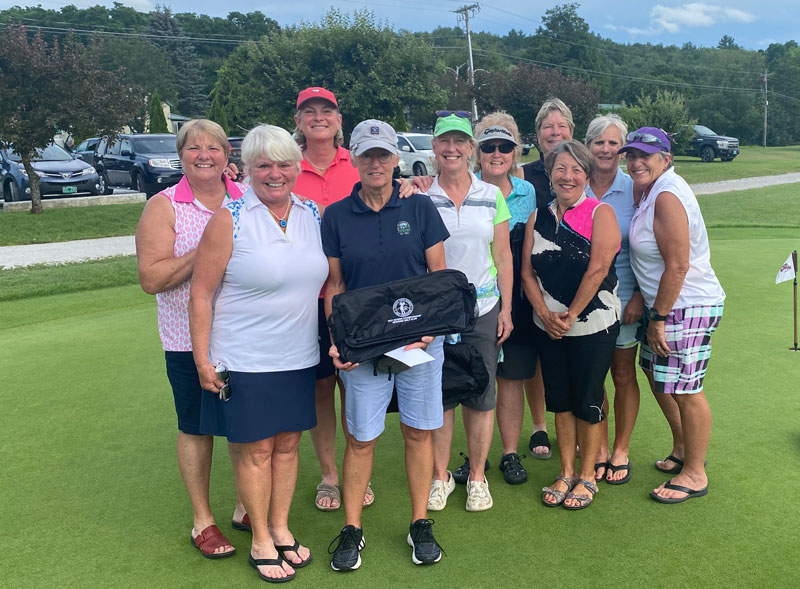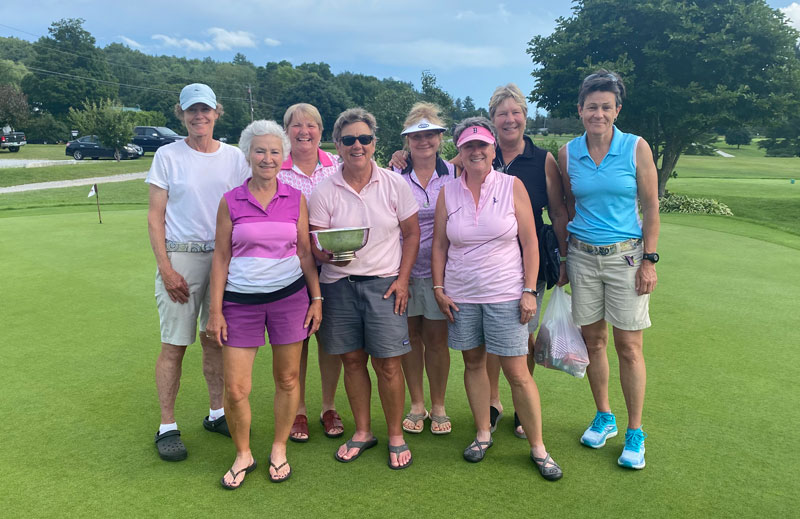 Congratulations to our 2021 Senior Champion, Andrea Brown of Champlain Country Club!
Andrea lead the field after the first round, and proceeded to stay loose through a 45-minute weather delay in order to finish with a one-stroke lead over a trio of competitors, finishing with a two-round total of 158. After 36 holes, there was a three-way tie at 159 for second between Kristin Mahoney of Neshobe Golf Club, Becky Montgelas of Ekwanok Country Club, and Reggie Parker of Ekwanok Country Club. In front of a large gallery of VSWGA members, the three moved to an exciting play-off on hole 18 where Kristin Mahoney blasted her second shot onto the green and sunk a lengthy putt for a birdie to take the Runner-Up trophy. Montgelas finished in third, and Parker took fourth. Rounding out the top five was the 2020 Senior winner, Jeanne Morrissey from Williston Golf Club, shooting a 160.
Consistent play put Nicole Laberge of Ralph Myhre Golf Course in the lead for net scores with a two-day net total of +1. Second net was claimed by Denise Barnard of Williston Golf Club with +3. By a match of cards, third net was won by Ellen Miller of Rutland Country Club with +4, fourth net was Trish Wade of Green Mountain National Golf Course with +4 and fifth net was Patty McGrath, also of Green Mountain National Golf Course with +4.
The Legend Division winner was Reggie Parker with 159, and the Super Senior Division winner was Mary Jane Shomo, shooting a 174.
The Pat Job Team Cup was won by the consistently strong Williston Golf Club Team, and second was taken by the the ladies of Champlain Country Club.
There is always a heavily contested Putting Contest the first day of the Seniors, and this year didn't disappoint. After a four-way tie at the end of Round 1 between Cathy Neff of Vermont National Country Club, Susie Bremner of Rocky Ridge Golf Club, Tallu Meade of Haystack Golf Course and Thelma Pearson of Dorset Field Club, the play-off for the title was contested during Round 2. When the scores were tallied, the winner by two strokes was Thelma Pearson.
Final Results: https://www.golfgenius.com/pages/2854958
Leaderboard – Gross, Net, Legend, and Super Senior Divisions; Skins
Rutland Herald Article by Adam Aucoin
________________________________________
2020 Senior Championship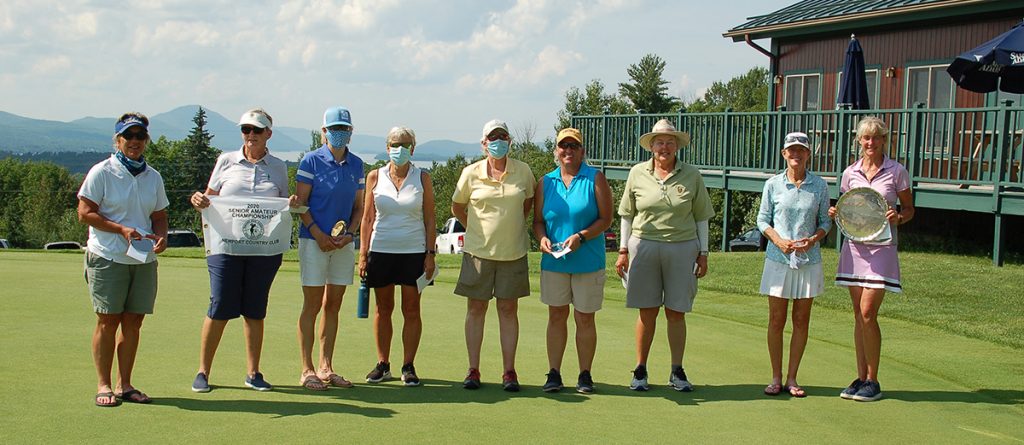 It may have started with a bit of rain on day one, but it finished in the sunshine on day two with Jeanne Morrissey of Williston GC winning her second Senior Championship with a two-day total 160. Cheri Campbell of Burlington CC made a charge from behind and took the Runner Up position with 165. Rounding out the top three was Dede Mahler from Country Club of Vermont with a 166.
The net winner was Regina Laraway of Lakeside Golf Club with a two day net score of 137. Second net was won by Louise LaPoint of Montpelier Elks CC with 138.
The ladies of Burlington Country Club combined to win the Pat Job Cup with 449 over second place Country Club of Vermont at 450.
2020 Awards Sheet
Full field results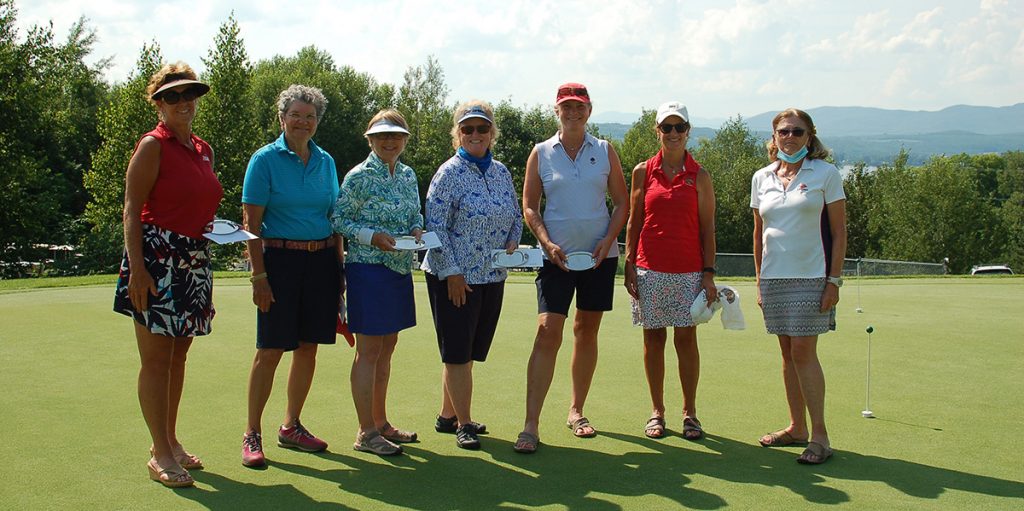 2019 Senior Amateur Awards
Full field results