Ruth Raymond Jones Memorial Seniors' Championship
Newport Country Club, Newport, VT
Wednesday-Thursday, July 8-9, 2020
Postmark Deadline: Saturday, June 27
On-Line Registration Deadline: 3 p.m. Wednesday, July 1. NO REFUNDS after 3 p.m. Wednesday, July 1.
Entry Fee: $125 includes entry, practice round, and luncheon.
Field Size: Limited to 100 applicants with the lowest USGA indices up to 36.0.
Eligibility, Handicap Limits, Caddie, Carts, and Pairing Information
Age Limit: 55 years and older at the start of the tournament. If a player wins the Championship trophy, she is not eligible to win the Super Senior or Legend trophy. A player may place in the top ten gross or net and win any of the divisions.
Divisions: Senior -55-64; Super Senior – 65-69; Legend – 70 and over
9-Hole Tournament: For those women who would like to compete, but who feel that 18 holes each day has become too much for them, a two-day 9-hole championship will run concurrently with the Senior Amateur. To be eligible for the 9-hole event, your handicap index must be over 30.0 and you must be 70 years of age or older. Anyone not meeting these criteria may petition the Tournament Committee for consideration.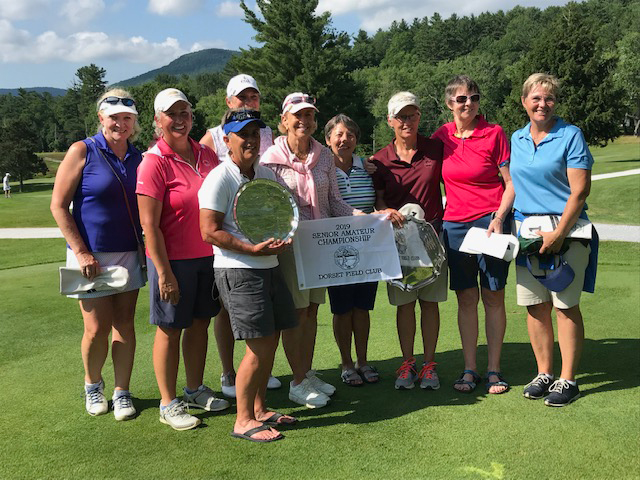 2019 Senior Championship at Dorset Field Club
It was an impressive two days of golf at the idyllic Dorset Field Club! For the 11th time, Reggie Parker of Ekwanok Country Club won the Championship, taking the lead by 5 strokes over Jeanne Morrissey of Williston Golf Club. The Legend trophy was won by Nancy Kendall of Dorset Field Club, and the Super Senior was Maureen Quinn of Lake St. Catherine CC. The putting competition was dominated by Jeanne Morrissey with 25 putts in Round 1 play. The ladies of Dorset Field Club combined to win the Pat Job Team Cup over second place Williston Golf Club.