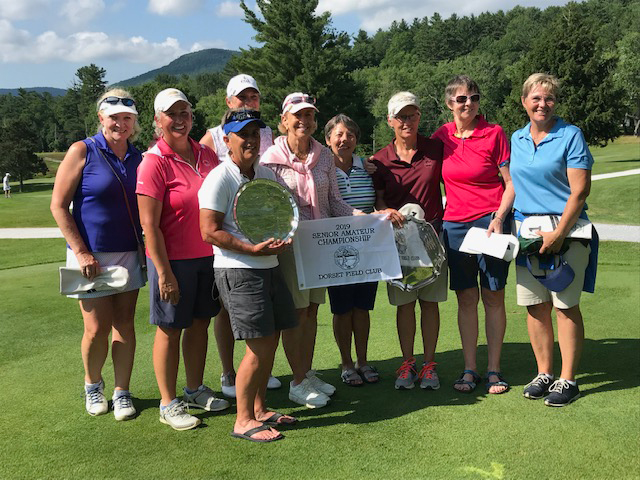 2019 Senior Championship at Dorset Field Club
It was an impressive two days of golf at the idyllic Dorset Field Club! For the 11th time, Reggie Parker of Ekwanok Country Club won the Championship, taking the lead by 5 strokes over Jeanne Morrissey of Williston Golf Club. The Legend trophy was won by Nancy Kendall of Dorset Field Club, and the Super Senior was Maureen Quinn of Lake St. Catherine CC. The putting competition was dominated by Jeanne Morrissey with 25 putts in Round 1 play. The ladies of Dorset Field Club combined to win the Pat Job Team Cup over second place Williston Golf Club.
Dorset Field Club, Dorset, VT
Thursday-Friday, July 11-12, 2019

Postmark Deadline: Saturday, June 29th
On-Line Registration Deadline: 3 p.m. Wednesday, July 3rd
NO REFUNDS after 3 p.m. Wednesday, July 3rd
Entry Fee: $125 includes entry, practice round, and banquet.
Field Size: Limited to 100 applicants with the lowest USGA indices up to 36.0.

Eligibility, Handicap Limits, Caddie, Carts, and Pairing Information
Age Limit: 55 years and older at the start of the tournament. Players may place in the top ten gross or net and win any of the three divisions. The three divisions are: Senior 55-64; Super Senior 65-69; Legend 70 and over

9-Hole Tournament: For those women who would like to compete, but who feel that 18 holes each day has become too much for them, a two-day, 9-hole championship will run concurrently with the Senior Amateur. To be eligible for the 9-hole event, your handicap index must be over 30.0 and you must be 70 years of age or older. Anyone not meeting these criteria may petition the Tournament Committee for consideration.
Information:
Tee times will be posted approximately 5 days prior to the tournament date.
Starting times may vary from 8am – 11am each day.
On tournament days the driving range and short game practice area will be open and balls will be provided.
A complimentary luncheon will be served for all players immediately following Round 1 play on Thursday, July 11. 
Lunch will be available to purchase following Round 2 play on Friday, July 12. Please bring cash. No credit cards will be accepted.
Water and a light snack will be provided at the tee each tournament day.
We will be playing the Forward Tees.
Lodging:
Lodging is available in Dorset, VT at The Dorset Inn, 802-867-5500 and the Barrows House, 802-867-4455. Each of these establishments will extend a 20% discount for weekdays and 10% for weekends from July 10-13. There is also a small bed and breakfast close by with several rooms called Cornucopia Bed & Breakfast, 802-867-5751. There is additional lodging available in nearby Manchester, VT.