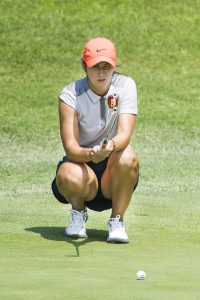 While the rules of golf are famously complicated, there are numerous resources available to help you learn the most important rules. In addition to the links below, you can often get clarification from other VSWGA members, your club's golf professional, or various publications created to demonstrate the rules of golf including condensed and illustrated versions you can carry in your bag. In 2023, VSWGA is promoting educational opportunities on the Rules of Golf.
The Rules of the United States Golf Association govern play in all VSWGA events including State Days and major tournaments. Visit the USGA website to see new rules changes for 2023. See a schedule of USGA sponsored workshops where you can register for introductory workshops on the rules of golf. Another page to visit for additional resources is www.usga.org/Rules. You are invited to send your questions, comments and feedback to: rules@usga.org. You can also learn about the 2019 rules changes, look up any rule or read FAQs, take rules quizzes, and more. Here's a table summarizing the 2019 rules changes.
Other Resources:
Rules 101 (https://rules.usga.org/product/rules-101/)- This completely free, online course will take you through the basics of the playing Rules with approximately 4-6 hours of content.
Resources on the USGA Rules Hub (http://www.usga.org/rules) – The USGA Rules Hub website has an array of videos, infographics, papers, charts, answers to FAQs, Rules Quizzes on the 2019 Rules of Golf, and much more.
Rules of Golf Mobile App – Free mobile app for iOS and Android devices that includes the full content of the two publications listed above as well as a robust search feature.
GeneralArea.org – A website created by Rules expert Dr. Lewis Blakey. It contains essays on a variety of Rules topics, study aids, Rules quizzes and more. It is available at http://generalarea.org/.
Local Rules and Conditions
At State Day events, each course should supply a handout listing any local rules at the registration table. The local rules may include a description of out of bounds areas, areas that are marked as 'ground under repair', and/or describe the location of any drop zones, together with instructions as to under what circumstances a player is entitled to use a drop zone. Local rules provided by the club for the State Day may allow players to take relief in certain situations not otherwise allowed by the USGA Rules of Golf. These exceptions are designed to speed up play during State Days. For example, if a player hits twice into a water hazard, and if the local rules explicitly allow this, she may be entitled to drop a ball in a designated drop zone for that hole. In that case, the player must add to her score each stroke and penalty stroke taken before advancing to the drop zone.