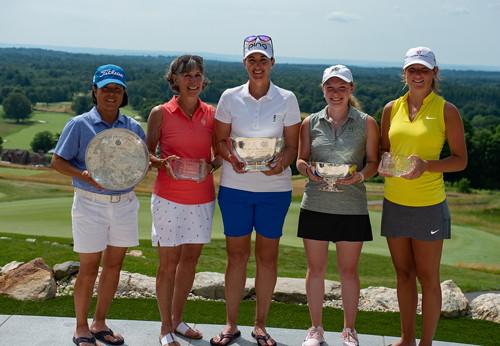 North Conway Country Club
Conway, New Hampshire
June 29th – July 1st, 2020

Entry Fee: $200
Entries Close: Thursday,
June 11th at 5:00pm
Visit the website to register by Thursday, June 11, 2020.
http://www.negagolf.org/womens-amateur.html

Eligibility: Entries are open to female amateur golfers who have an active GHIN Handicap Index at any member club of a New England state golf association not exceeding 18.0 as determined by the June 4, 2020 Handicap Revision. The Championship proper will be a maximum of 120 players, accepted on a first-come, first-serve basis.

Entry Close Date: Entries and fully paid entry fees for both exempt and qualifying competitors must be received through the NEGA Online Entry process by 5:00 pm EST on Thursday, June 11, 2020. THE NEGA DOES NOT ACCEPT ENTRIES AFTER THE ENTRY CLOSE DATE.

Divisions: There are two divisions in the New England Women's Amateur Championship. The Championship division is a gross-only competition played from approximately 5900 – 6100 yards (yardages subject to change). The Overall Champion, Runner-Up, Junior Champion, and Senior Champion will be awarded from this division. The Tournament Division is a gross & net competition played from approximately 5600 – 5800 yards (yardages subject to change). The Legend Champion will be awarded from this division. Prize Certificates will be awarded to the best gross players in the Championship Division and the best gross & net players in the Tournament Division.
In 2019, six Vermont women participated in the three day tournament:
Tracy Sloan, Brattleboro CC; Dana Cassidy, Vermont National CC; Nancy Devaux, West Bolton CC; Kathy Kemp, CC of Barre; Linda Jane Parsons, Mount Snow CC; and Carson Laderoute, Burlington CC. Carson was the top Vermont player, shooting a final round score of 80, placing her 13th in the field of 76 competitors.
Tournament Results: https://www.golfgenius.com/pages/2078255
NEGA ADDING WOMEN'S AMATEUR TO CHAMPIONSHIP LINEUP
The New England Women's Golf Association Women's Amateur Championship will be managed and operated by the New England Golf Association beginning in 2020. The New England Women's Amateur Championship will be the fifth prestigious event added to the NEGA calendar alongside the New England Amateur Championship, the New England Junior Amateur Invitational, New England Girls' Junior Amateur Invitational, and New England Senior Amateur Championship.
x