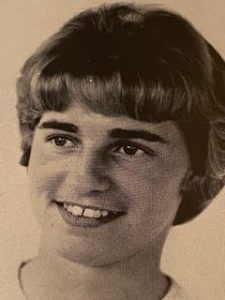 Jean Thompson Witchekowski
March 6, 1945 – April 4, 2021

Jean Witchekowski passed away on Easter Sunday, April 4, 2021 while she had been receiving hospice care at her home. She was born on March 6, 1945 in Hanover, NH to Rachel and Merton Thompson of West Woodstock, Vermont.
Jean attended Woodstock Elementary School and graduated from Woodstock Union High School in 1963. During high school, she was Vice President of the National Honor Society, on the softball team, a basketball cheerleader, and a member of the WUHS women's ski team winning downhill and slalom competitions. Upon graduation, she attended Burdett Business College and studied accounting.
After college, she worked for the State of Connecticut in the accounting department and then transferred to the Connecticut Motor Vehicle Department.
Jean met her future husband Ted during her employment at this time through her brother-in-law, Nick Rutherford, and they enjoyed many days of working together and skiing.
Jean and Ted were married in 1971 and lived in Norwich, Connecticut until retirement in 1997.
Having enjoyed trips to Florida to visit her parents, they decided to move there for winter months and with Jean's love for Vermont, also started building their summer home in Stockbridge, VT. They loved to talk about their first summer living in Vermont, camping in a tent while they built their new home.
Jean loved to golf and spent most of her free time on her favorite golf courses in Florida and Vermont. Gathering for hot dog cookouts on weekends with friends from her Vermont childhood was a special time for her and Ted.
Jean is survived by her husband Ted, her brother, Wayne Thompson of Woodstock, VT, her brother-in-law, Nick, her nephew Scott and her niece Dawn and their families.
Jean was predeceased by her parents, Rachel and Merton Thompson, and her sister Elaine Thompson Rutherford.
Jean will be greatly missed by everyone who was fortunate to have known her. Her smile and happiness will be remembered forever with those she shared her life with.