2023 VSWGA Amateur Championship Final Results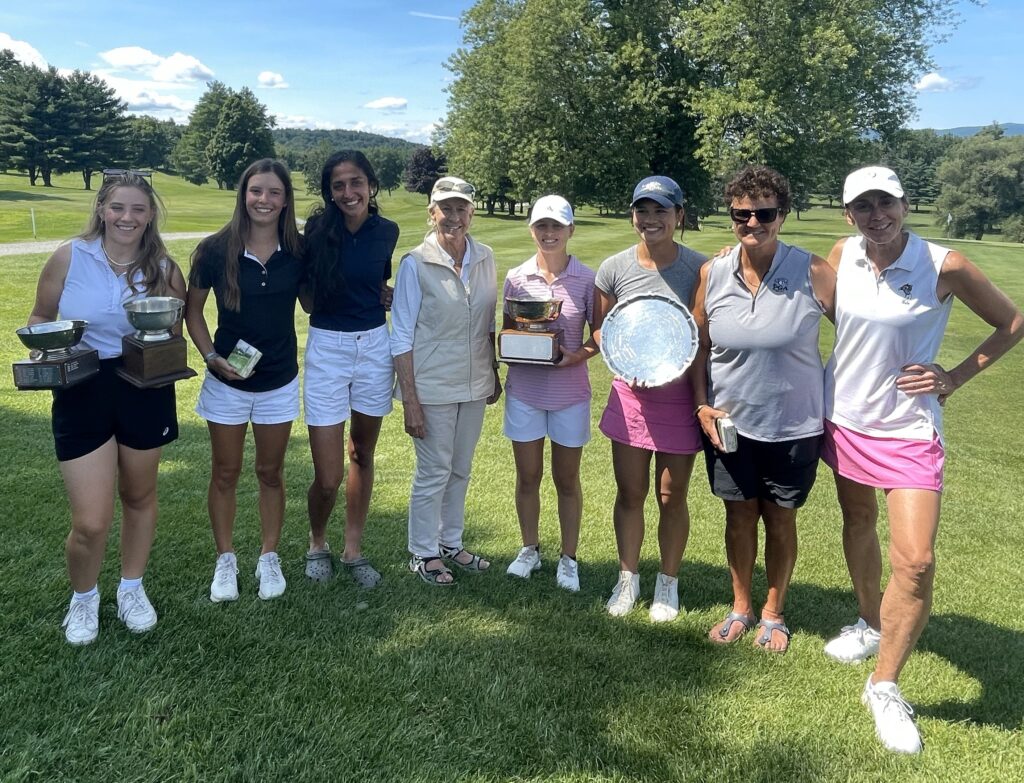 Mt. Anthony Country Club
July 31-August 2, 2023
The final round of the Amateur Championship was held at Mt. Anthony Country Club in Bennington, Vermont. In an exciting finish, after struggling to make pars on the front nine, Hailey Katona of Bellows Falls Country Club shot all pars on the back nine and extended her 36-hole lead by two strokes (70-77-76). The Runner-Up, Morgan Lee of Ralph Myhre Golf Course, produced two birdies on the back and shot a low-round of the day of 73 to move to just 3 strokes off the lead (81-72-73). Tiffany Maurycy of Killington Golf Course stayed in sight of the leaders by shooting a 74, which was good for third place (77-76-74).
The Juniors showed their skills in a battle for fourth place. Kaylie Porter of 802 Golf Academy birdied three of the last four holes to clinch both fourth place overall and the Junior Champion Title (79-77-73). She edged out junior Teegan Duffy of Rutland Country Club by three strokes over 54-holes, with Duffy shooting 4 birdies and taking 5th place overall (79-75-78).
Kaylie Porter also took home the Allbright Ringer Trophy, finishing with an impressive -8 ringer score. Second place on the Ringerboard was Morgan Lee, shooting a -6 ringer score.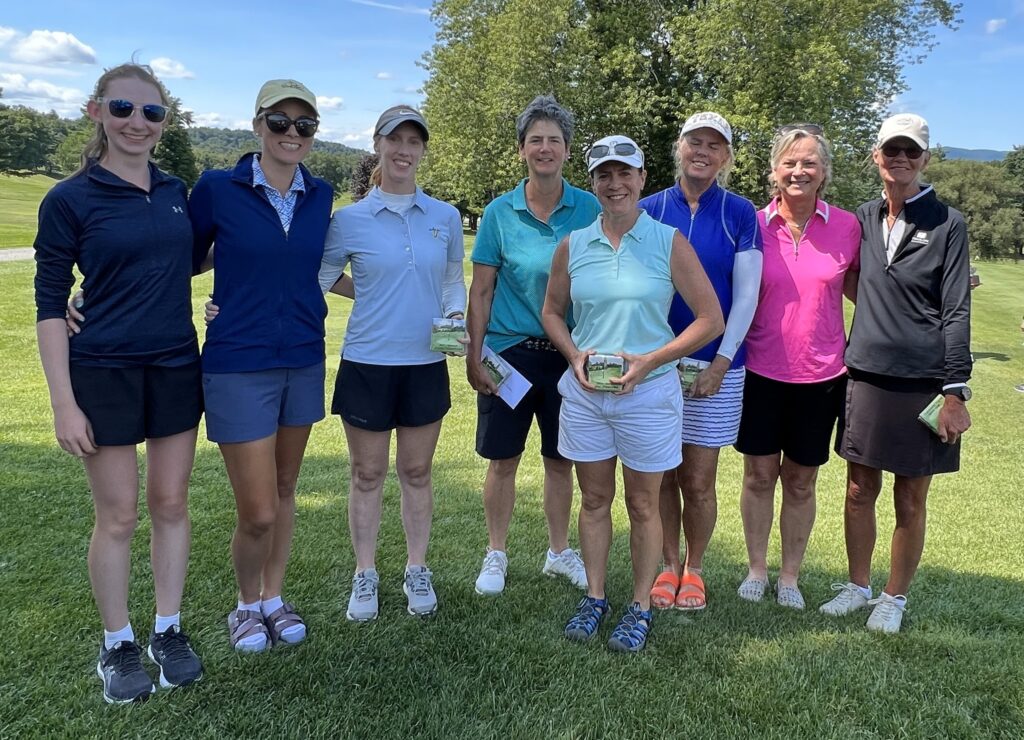 Apparently, the lovely weather and beautiful course conditions went to my head, because I was able to pull off the net victory. Jen Steck (me!) of Lake Morey Country Club shot a 54-hole, +6 Net score to take first place. Second Net was won by another of our amazing juniors, Lillian Collins of Vermont National Country Club, with a +8 net score.
The Paquet Team Cup went home, once again, with the ladies of Williston Golf Club, with a three-day cumulative score of 720. The second-place team was Ralph Myhre Golf Course with a score of 755.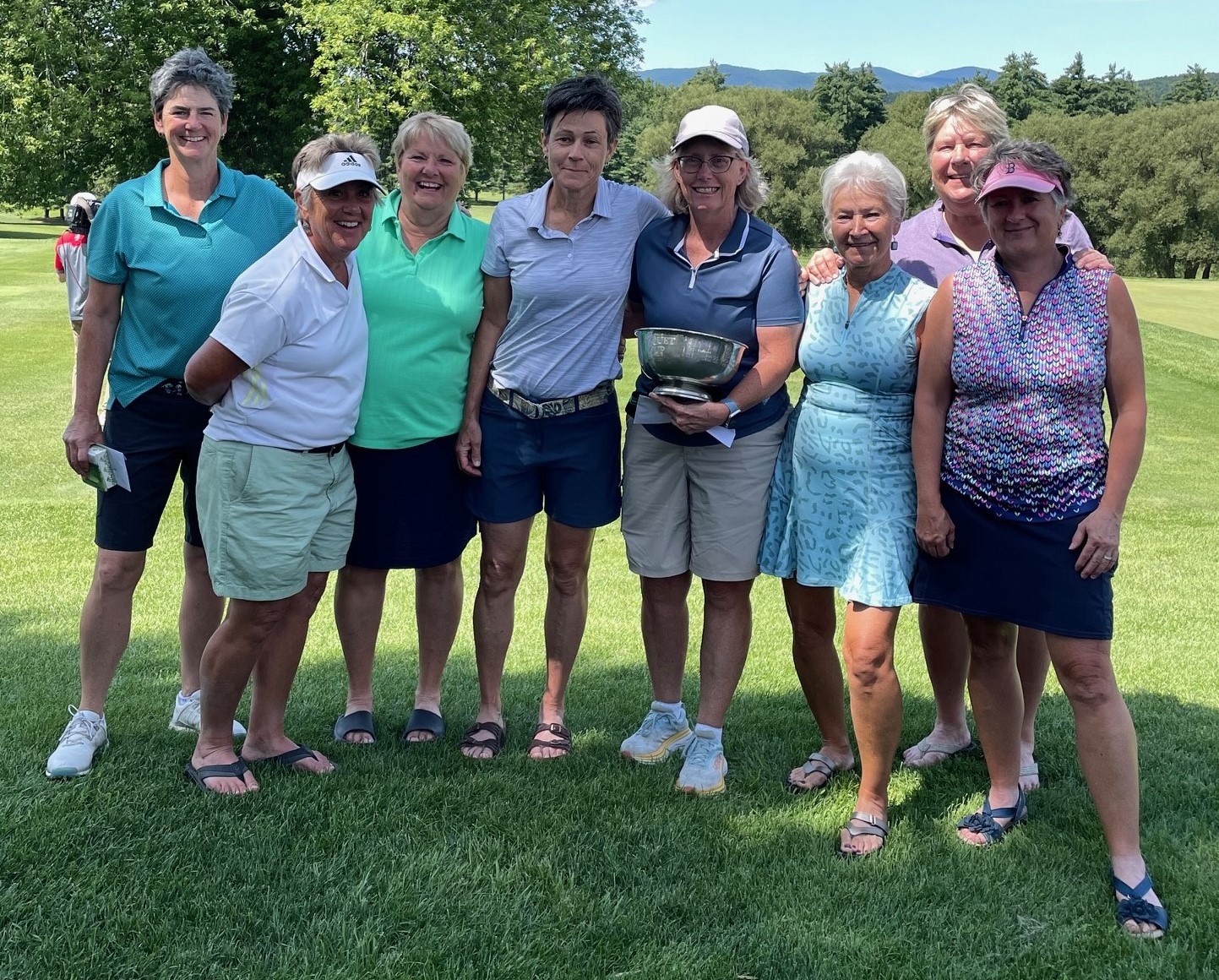 2023 Amateur Paquet Cup Winners: Williston Golf Club. Left to right: Karen Bisbee, Jeanne Morrissey, Denise Barnard, Gretchen White, Barb Masterson, Lois Dolan, Janet Hayden, Wendy Drolette
Final Leaderboard
Day 1 results, Monday, July 31
Day 2 results, Tuesday, August 1
WCAX Coverage with Hailey Katona interview, reporting by Jack Fitzsimmons
WPTZ Coverage with reporting by Jack Main

Thank you to all who played.
Please join us for the Mid-Amateur Championship at Neshobe Golf Course, September 23-24, 2023. Registration is open in Golf Genius.
Jen Steck
VSWGA Major Tournaments