2023 Tri States Competition
Martindale Country Club, Auburn, ME
2023 MARKS 70 YEARS OF TRI-STATE COMPETITION!!!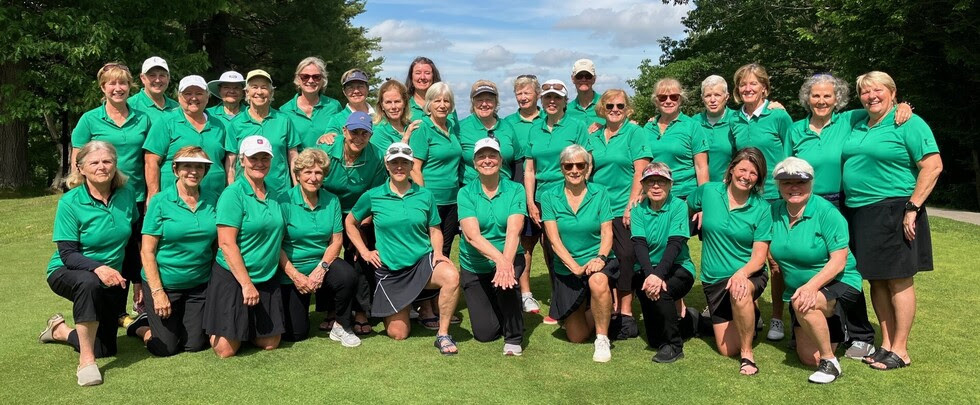 Vermont's 2023 Tri-State Team
Back row L to R: Jill Appel, Terry Boyce, Jayne Magnant, Josie Herrera, Reggie Parker, Dana Cassidy, Jen Shaw, Nancy Morris, Ashley Bond, Donna Mazut, Trish Wade, Els Walker, Frances McCune, Patty Baroudi, Mary Beth Menduni, Rhonda Colvard, Amy Butcher, Dede Mahler, Susan Rand, Denise Barnard.
Front row, L to R: Sis Capeless, Cheryl Hoar, Kristin Mahoney, Bonnie Heald, Ellen Miller, Jen Steck, Jo Allsopp, Mary Jane Shomo, Chris Johnson, Jen Farrington, Linda Jane Parson.

Final Results:
Maine – 157
Vermont – 153
New Hampshire – 95
Another hard-fought Tri State women's tournament wrapped up Wednesday at the Martindale Country Club, in Auburn, Maine.
Entering Round 2 individual matches, Maine held a narrow one half point advantage over Vermont, with New Hampshire trailing by 10 points. The Green Mountain Women fought hard for every point, but were unable to overtake the strong Maine team.
Captain Trish Wade says, "I'm so proud of the great sportsmanship our team exhibited, in keeping with the rich tradition of this tournament. We graciously relinquished the winning trophy and title to the Maine team with cheers and promises to see them for the re-match next year. We look forward to hosting the tournament in 2024 and bringing the trophy back to Vermont."
Thank you to all who played, our alternates for making the trip and cheering us on and our members who supported the team from afar.
A special thank you to Trish Wade for her hard work as team captain over the last three years.

2023 Vermont Tri-State Team