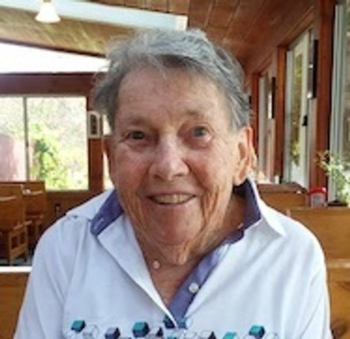 Quechee, VT – Ruth Merritt Wiegand, 94, of Quechee, Vermont died peacefully on January 15th in Woodstock, Vermont.

Mrs. Wiegand is survived by her husband of 72 years John J Wiegand, Sr. and her five children; Claudia Wiegand of Rehoboth Beach, DE, Linda Wiegand Packard (George) of Quechee, Donna Wiegand Bicknell (Raymond) of Beebe Plain, VT, John J Wiegand Jr. (Cindy) also of Quechee, and Michael J Wiegand (Ghaddra Gonzalez) of Mercer Island, WA. Mrs. Wiegand is also survived by 6 grandchildren and 3 great grandchildren.

Mrs. Wiegand graduated from Baldwin High School, Adelphi College for Mathematics, and New York State University at New Paltz with a Masters in Education. She taught in the Long Island, NY schools. She married John on February 11th, 1950. In 1964 the Wiegand's moved to Quechee, VT where Ruth was a substitute teacher in the Hartford School System.

She was a member of Our Lady of the Snows Catholic Church since 1964 and was an active member of the St. Anne's Club. Joining Woodstock Country Club in 1967 heightened Ruth's love for golf and traveling the state with her many friends. The Wiegands became members of the Quechee Club in 1973 and Ruth continued her active life as a member of the golf committee and the health club advisory committee. She volunteered at the Dartmouth Hitchcock Medical Center. Ruth was also the past president of the Quechee Cemetery Association, the Vermont State Women's Golf Association (1984-1985), and the New England Women's Golf Association.

A funeral mass was held at Our Lady of the Snows Catholic Church in Woodstock, VT on Saturday January 28th at 11:00am. She will be interred at a later date in the Quechee Cemetery.

Memorial donations may be made to; Our Lady of the Snows Catholic Church, The Mertens House, or the Quechee Cemetery Association.

Arrangements by Cabot Funeral Home, Woodstock, VT. An on-line guest book can be found at cabotfh.com
Published by Valley News on Jan. 17, 2023.