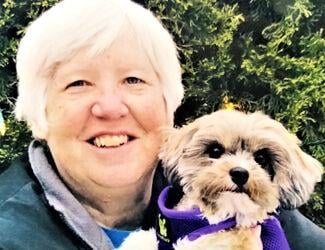 Debra Warner
1958-2022

Please join us to celebrate the life of Deb Warner.  There will be an informal gathering on Sunday, August 7, from 2 to 5 p.m. at Fiddler's on the Green restaurant located at Champlain Country Club, in Swanton VT.
Debra L. Warner, of Georgia, VT, and her beloved dog Piper, were both killed in a car accident on June 22, 2022, in Colchester, VT. Deb was born in Randolph, VT on March 10, 1958 to Keith (KC) Warner and Ruth (Parker) Warner Brown. She attended the Randolph Elementary School and Randolph Union High School. She excelled in athletics, which led her to a Physical Education degree from Johnson State College. She also was an excellent student athlete at Johnson State which led to her induction into their Athletic Hall of Fame.

After college, she became the Director of Recreation for the Town of Johnson and then a Deputy Sheriff with the Lamoille County Sheriff's Department. After leaving Lamoille County, she worked many years at the Racquet's Edge in Essex Junction, VT and then as the Fitness Director at the Sheraton Hotel in Burlington, VT. Wanting to further her career, Deb went back to school and earned a degree from Vermont Technical College as a Rehab Engineer Technologist. She had been currently working at Performance Chiropractic in Essex Junction, VT and the Vermont Center for Occupational Rehabilitation in Essex Junction, VT. Deb loved what she did and was very passionate about helping people.

Deb was an avid reader. She also enjoyed listening to books on tape, even when mowing the lawn. For the last few years, Deb enjoyed spending her weekends at the 10 Acres Campground in Addison, VT. She met many new friends there and also enjoyed the time spent with her sister and other members of the family. Deb loved playing cribbage and backgammon. Most recently, she loved playing the board game, TUC, and was always trying to start a game. Sports were also an important part of Deb's life. She was a loyal Boston Red Sox fan and always participated in the NCAA March Madness brackets for both men and women's college basketball. She was actively involved with the Burlington Silver Foxes Women's Rugby Team, where she was a leader on the team. She also spent many years playing softball in the Burlington Women's Softball League, also as a team leader. After softball, she took up golf and was a quick learner. She was a member of West Bolton Country Club where she even won the club championship one year. Later she joined Champlain Country Club in Swanton, VT which led her to the Vermont State Women's Golf Association. She played in many of their State Day Tournaments held throughout the state, and even served on their board of directors. Going to Myrtle Beach, S. Carolina to golf became a favorite trip.

Deb started her officiating career, with field hockey, in 1981. She was affiliated with the Vermont Field Hockey Umpires Association where she was VT High School Assignor of Officials, a member of the VT Principals Association Field Hockey Committee, and the United States Field Hockey Northeast Chair. Through the years she earned the honor of officiating many VT State High School Championship games, post-season games at the collegiate level, and tournament games at the USFHA National Futures Tournament in Virginia Beach, VA. She was twice selected as Official of the Year by the VT Field Hockey Coaches Association and was selected to officiate the Twin State Classic game between VT and NH. Deb was instrumental in initiating the videotaping of championship games, on which the DVDs included the game being announced by umpire/coach pairings of commentators. Deb also umpired softball for several years and her affiliations included the VT Softball Officials/ASA Softball Officials and the VT Women's Softball Commissioner. Deb gave up softball when she was recruited into Women's Lacrosse officiating just as the sport was starting to grow in VT high schools. She was a member of the VT Women's Lacrosse Umpires Association where she served as Assignor of High School Officials and Local Chair of the VWLUA. She earned the honor of officiating many VT High School State Championship games as well as post-season games at the collegiate level. Deb's love of officiating was evident to all who were lucky enough to work alongside her. She leaves a long line of umpires who she helped recruit, train, and mentor.

Deb was predeceased by both her parents, Keith (KC) Warner, May 2022 and Ruth (Parker) Warner Brown, Nov. 2011. Stepmom, Joyce Welch Warner, Sept, 2006 and stepmom, Altha Fraser Paul Warner, Feb. 2018. She was also predeceased by two great nephews, a great-great niece and numerous aunts, uncles and cousins. She is survived by her three siblings and their families: Ronald Warner (Edie) of Braintree, VT and their children: Ron Jr. (Nicole) of Randolph, VT and Tricia (Jim) Maloney of Deerfield, NH. Teresa Bradley (Gary), and their children: Corey (Kim) Bradley of Tunbridge, VT and Tracy (Eric) Maxham of Randolph, VT. Wayne Warner (Karen) and their children Krista (Kevin) Freeman of Braintree, VT and Josh Warner of Braintree VT. Also, many great nieces (6), great nephews (8) aunts, uncles and cousins; stepbrother, Philip (Marie) Lackey; Stepsister, Donna Brownell. Also surviving Deb is her stepdad, Richard Brown of Braintree, VT and his family: Michael (Cindy) Brown, Stephen Brown, Sue (Robert Jr.) Small, David (Kelly) Brown, Lisa (Gary) Alexander, Dennis (Rick) Brown. Deb is also survived by Karen Slowinski, who was her partner for 26 years. Even though they ended their civil union in 2016, they always remained friends. She also leaves behind many other dear friends: Laurie Ledoux, Nadia Hamdy and Eileen Blackwood, just to name a few.

Services for Deb will be held Saturday, July 9, 2022. Visitation will be at the Day Funeral Home in Randolph, VT from 12:00 to 2:00 PM, followed by the burial of her ashes, together with Piper, at Mountain View Cemetery in West Braintree, VT at 2:30 PM. A later celebration of Deb's life will be hosted by her friends in her hometown of Georgia at a later date for those who wish to share remembrances. In lieu of flowers, please make a donation in her name to your favorite animal charity. Friends and family are welcome to a reception at the Braintree Town Hall following the service. Online condolences may be made at www.dayfunerals.com The Day Funeral Home in Randolph is assisting the family with arrangements.