Eileen Ranslow 1942-2021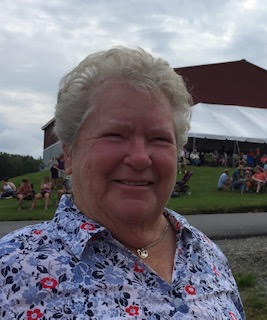 Eileen Ranslow of Marlboro, Vermont and Palm City, Florida passed away on June 30, 2021, at her Florida home. She was born Eileen Margaret Moore in Hempstead, New York to James A. Moore and Gertrude K. Fryer on August 4, 1942. Eileen grew up in Valley Stream, New York and was a precocious athlete. She was the first girl to play in the local baseball league, and developed a passion for skiing early on. She spent many weekends as a young woman at Mt Snow in southern Vermont, fell in love with the Deerfield Valley, and moved to the area in 1965 to work as a manager at The Wilmington White House.
In 1970, Eileen married John "Joe" Ranslow, with whom she started and built a notable business in the area – the Wilmington Home Center. Together they raised their five children in nearby Jacksonville, where they maintained a home. The house grew as the family did, and was the site of many gatherings of family and friends from near and far over the years. In the 1990's Eileen's parents also relocated to the area after retirement.
Both Eileen and her husband took active roles in the Wilmington and Whitingham communities. Eileen served on local business boards and helped supervise whatever recreational activities her children were involved in – including chaperoning innumerable school trips. Not being one to sit on the sidelines, she served proudly on the Whitingham School Board for many years.
Eileen became very passionate about the game of golf, starting out by playing alongside her dad and continuing to do so for many years. She loved to play competitively, and made her mark in the golf community all over Vermont and New England, both as a top player and as an organizer. She served multiple terms on the Vermont State Women's Golf Association (VSWGA) Board and spent many hundreds of hours as Chair of the Vermont State Championships at Haystack, Brattleboro, Tater Hill, Mt. Snow and Manchester.
As a player in those state championships, she placed in the top ten numerous times and twice earned the title of most improved golfer in the state. For many years she was on the Vermont Tri-State Team, competing each June against teams from Maine and New Hampshire. She was most proud of winning multiple club championships at both the Haystack Golf Club and the Brattleboro Country Club. Without a doubt Eileen's favorite place was the Haystack Golf Club, where she earned the affectionate title of "Mrs. Haystack".
In later years she began spending the colder months in Florida, and thoroughly enjoyed year-round golf as a member of the Harbour Ridge Yacht & Country Club in Palm City. She also began pursuing a love of travel, vacationing in Europe and Asia. Combining her passions, she was fortunate to have played many golf courses throughout the US, as well as in Ireland, Scotland, New Zealand and Australia.
She leaves her dear friend and favorite golf partner Elizabeth Walker of Marlboro, sons Cameron Ranslow and David Ranslow of Jacksonville, daughters Joanne Main of Bennington and Karen Shipp of California, and her brother John Moore of New York. She also leaves her grandchildren Rodney Sprague, Adam Ranslow, Elizabeth, Rebecca, Danny, Walter and Matthew Main and Halen Ranslow, as well as several great grandchildren, nieces and nephews.
Eileen was predeceased by her parents, her husband, her daughter Bethany Sprague, and her sisters Catherine Jean Gropper and Janet Ann Moore.
A gathering of remembrance will take place at the Haystack Golf Club in Wilmington on July 30th, from 5 until 8 PM. A family internment will take place at the Kings Cemetery in Marlboro. Should friends desire to make a gift in Eileen's memory they can do so to the Grace Cottage Hospital Foundation c/o Covey, Allen and Shea Funeral Home, Box 215, Wilmington, VT 05363.